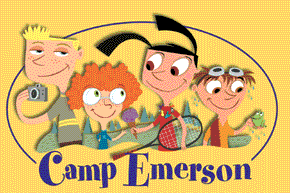 Camp Emerson campers design their perfect day from over 50 traditional and unique activities. Choose from: visual arts-jewelry, ceramics, cartooning, fashion, athletics-basketball, fencing, archery, baseball, tennis, performing arts-theater, rock band, clowning, dance, watersports-heated pool, waterskiing, sailing, outdoor adventure-zipline, ropes course, hiking and our step beyond activities-cooking, CO2 race cars, mythbusters, forensic science, science, rocketry, check out the website to see them all.For over 40 years, families have chosen Camp Emerson as an ideal nurturing and growth experience for their children. Kids say, "You walk in and immediately make friends." 100 staff supervise 200 girls and boys ages 8-15. Located in the beautiful Berkshire Mountains of western Massachusetts - 3 hours from NYC and Boston.
Academics, Acting, Archery, Arts & Crafts, Baseball, Basketball, Ceramics/Pottery, Challenge/Rope Courses, Circus Arts, Dance, Film Making, Fine Arts, Fishing, Fitness, Golf, Gymnastics, Lacrosse, Martial Arts, Music, Outdoor Skills, Photography, Radio, Roller Hockey, Sailing, Soccer, Softball, Swim Instruction, Swim Recreation, Tennis, Theater, Volleyball, Waterski, Wilderness Camping, Windsurfing,
Contact us for rates & dates.
Ratio of campers to staff?
What are our safety & security policies?
How do we handle disciplinary issues?
What medical resources are available?
​What's our typical daily schedule?
How do we help campers with homesickness?
What percentage of campers return to camp?
What kind of food is served?
How do campers communicate with parents?
Are references available?
What's our policy regarding phones and digital devices?
Is tuition assistance available?