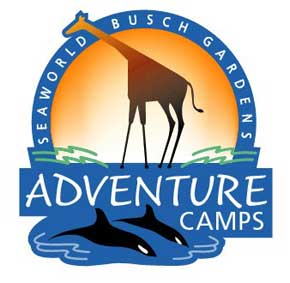 Make new friends: flippered, feathered and otherwise. Swim with dolphins, snorkel in a shark cage, feed rays and even make friends with a penguin. Live, work and play behind the scenes at SeaWorld, alongside amazing animals and the experts who care for them. Have fun, explore the great outdoors, ride world-class coasters, and make lifelong friends and memories. Sign up now for one incredible camp! www.SeaWorld.org/camps. Day Camps also available from grades K-8.
Sleep next to manatees, dolphins, or beluga whales or off-site at hotels
Academics, Adventure Programs, Career Focus, Community Service, Environmental Ed, Leadership Training, Marine Science, Nature Study, Outdoor Skills, Zoology,
Contact us for rates & dates.
Ratio of campers to staff?
What are our safety & security policies?
How do we handle disciplinary issues?
What medical resources are available?
​What's our typical daily schedule?
How do we help campers with homesickness?
What percentage of campers return to camp?
What kind of food is served?
How do campers communicate with parents?
Are references available?
What's our policy regarding phones and digital devices?
Is tuition assistance available?